Bartosz Głowacki – our patron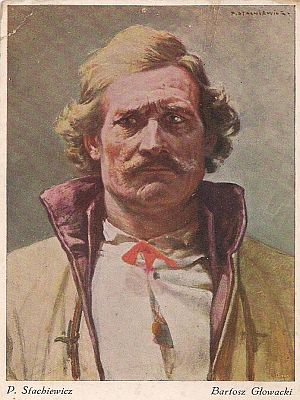 &nbsp&nbsp&nbsp&nbsp Wojciech Bartosz vel Bartosz Głowacki was probably born in Zakrzów near Skalbmierz in about 1756. He came to work, to Rzędowice in Szujski's property. He got married in about 1783 to Jadwiga Czernikówna and had three daughters: Helena (1784), Cecylia(1790) and Justyna(1794).
&nbsp&nbsp&nbsp&nbsp On March 24th, after Kościuszko's announcement of the uprising on the Market Square in Cracow, all headquarters got down to work. On March 25th, The Board of Cracow Administration issued a letter commanding each of five houses to put up a recruit. The recruits should be armed with a saw, hatchet or a scythe. In compliance with this order, the administrator of Szujski's property, Strawiński, sent three recruits from Rzędowice. Among them was Wojciech Bartosz. To Kościuszko's camp he came in the troop of Jan Śląski on April 3rd.
&nbsp&nbsp&nbsp&nbsp On April 4th the famous victorious battle took place – the Battle of Racławice. For his bravery in gaining a cannon, Głowacki was to get a reward and an officer rank. Kościuszko designated him as an officer and gave him the surname Głowacki on April 8th.
&nbsp&nbsp&nbsp&nbsp After returning to the camp of Bosutow, Kościuszko issued the proclamation of favour for Głowacki's bravery. In answer to this proclamation, on April 14th Szujski sent a letter to the governor Strawiński in which he made Bartosz, his wife and children free from all duties and gave him farm animals.
&nbsp&nbsp&nbsp&nbsp Głowacki was happy about this. Soon, however, the day of the battle of Szczekociny came (June 6th) and this unresolved battle was the last one in Głowacki's life. He died in Kielce and was buried in June 9th in "Ogrojec" cemetary. On November 11th 1928, on his grave appeared a stone with an inscription: "Wojciech Bartosz-Głowacki – the hero of Racławice"